Happy Monday friends. This is a melancholy Monday for me because it is my last Monday while on maternity leave. (I'm not crying, YOU'RE crying.) Next Monday, I resume my work outside the home. I am looking forward to working with my colleagues again and treating my wonderful patients, but I will miss this slow and sleepy respite I've had at home with Theo. This will be a bittersweet week and if you please could pray for us during this transition, I would much appreciate it.
But, on to why I'm posting — week 2 in my planner! I had a ton of fun with this spread. I used a happy planner sticker book and some colorful washi. While I've always used a planner, my new use of various stickers and colors has become a restorative creative outlet. Usually, I've purchased run-of-the-mill planners that already have their own colors or themes. But my beautiful Blessed Is She planner is simply perfect. I can personalized it and make it my own each week, while also keeping on top of my schedule, my to-dos, and the liturgical seasons. I cannot rave about it enough. I exclusively used a bullet journal for all my lists and planning needs, but I had a hard time keeping up with the weekly spreads. So now I use my planner and my bullet journal separately and it's working out nicely. I'll show you my 2019 bullet journal set-up soon.
If this is your first time reading one of my planner posts, I'll share with you some supplies I use. If you're a regular around here, keep on scrolling to the photos.
Most-used supplies:
- Blessed Is She Liturgical mini-planner
- The Happy Planner value sticker books
- Tombow twin tone pens
- Uniball signo pens
- Washi tape
- Fiskars paper cutter
Other supplies:
- Fiskars scissors
- Label maker
- Zebra Mildliner highlighters
- Loose leaf planner paper
- Post-its
I wheel everything around on my craft cart. Maybe one day I'll upgrade to a craft closet hehe.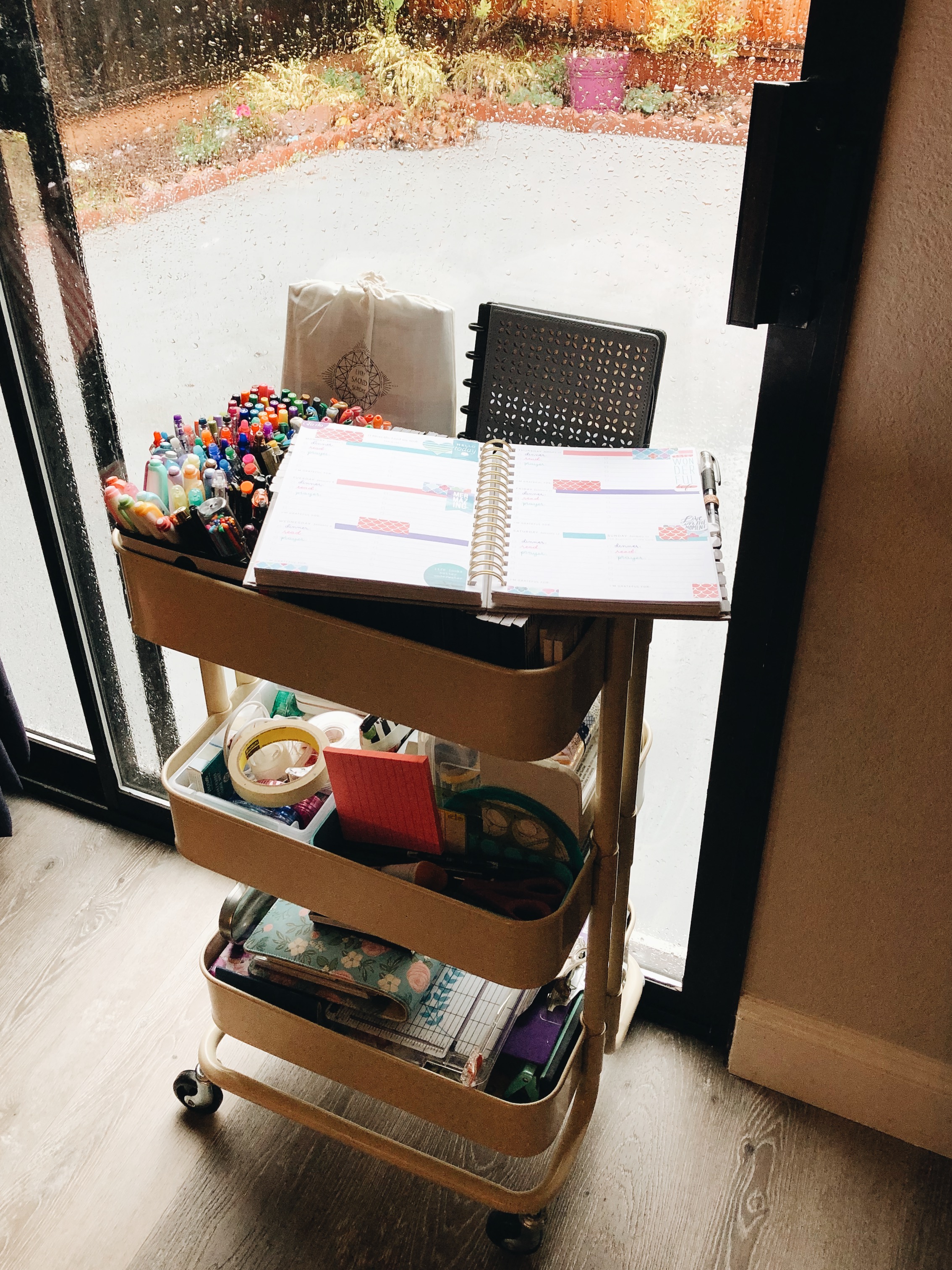 These photos don't do the stickers justice. They are shimmery and oh so pretty. I think I'll start showing my after the pen spreads too so you can see what the planner looks like when it's been used. Would you like that? Happy planning friends!
This post contains affiliate links. If a sale is made through an affiliate link, I may be compensated but all opinions are my own.